What do you do when your kid tells you they've stopped believing in God?
As a father of five, I can empathize if you've recently learned your son or daughter left the Christian faith. In 2009, my oldest son told us that he was now an atheist. It was gut wrenching. It sent me on a long journey with my own faith.
With hindsight and experience, I'd like to share some advice.
First, realize that intense emotion can feel all-consuming. Initially, you don't even want to believe your son or daughter has left the faith. Just like with a major grief, a reaction of denial is normal. I remember wanting to deny it all for a while.
"It's just a phase. He'll grow out of it. God will get a hold of his heart and change his mind."
You will probably feel like you've failed miserably as a parent. In addition, I remember just wanting to shake him so that his senses would return (the anger phase). I'm glad that I didn't yell, scream or get physical. If you yelled, it's understandable. Many do. Only a parent knows what sacrificial love for your child feels like. You want to protect them. You want the very best for them.
It can be helpful to realize that you will likely go through the other stages that are common with grief, which includes bargaining, depression and lastly, acceptance.
So what should you do? Are there any easy answers? I wish there were.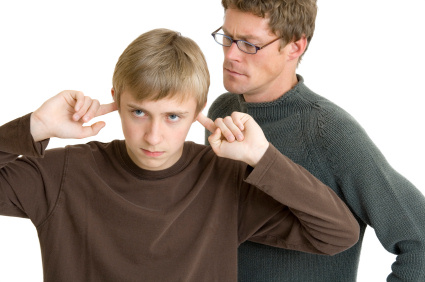 The following might be hard to read but please hear me out. Let's start with what you shouldn't do and then we'll look at things you can do.
Don't yell, scream or insult them. Yelling "How could you be so stupid!?!" isn't going to be effective. It's a real hindrance to having an open conversation. If you got angry, please do whatever is necessary to restore an open connection with your son or daughter.
Ask, but don't assume that they just need to read their Bible more. I've found that most atheists know the Bible far better than most Christians. There are many atheists who actually arrived at non-belief from doing just that — reading the

whole

Bible. The Old Testament is especially a problem. If you've ever read it, you know there are a lot of troubling things in there: slavery endorsed by God; genocide commanded by God; plural marriage; allowance for raping a girl and then marrying her; weird commandments about not mixing fabrics, etc. The Bible contains many amazing stories and parables of love and mercy, but from a logical perspective, it's not hard to see why someone might reject the Bible after close scrutiny.
Think carefully before demanding that they attend church every time that the doors are open.
"That's it! We're going to church every Sunday and Wednesday from now on!!!"
I'm assuming that your son or daughter is an adolescent or young adult, and if so, realize that the end result of this coercion will be resentment and bitterness from your son or daughter. If your son or daughter wants to attend, great. But forcing attendance will generate significant resentment, creating a brick wall to hearing any message. Suicidal thought is even a potential outcome.
Don't assume that they failed to pray hard enough. Perhaps like me, you've spent countless hours on your knees over the years. We have to admit that prayer is unfortunately, a one-sided conversation. Prayer is comforting! But be empathetic to those who have spent significant energy seeking God's still small voice but who never heard a reply.
Be careful of threatening them with hell fire and damnation. It ends up sounding like the sort of thing that an abusive lover would say: "Love me or I'll kill you!". Atheists don't believe in hell. It's a doctrine that evolved over time and was adopted from earlier religions. You may want to even study a few of the common arguments or questions against the doctrine of hell. This includes: Why would a loving God use a threat (hell) to inspire a relationship with him? If God is the author of love, how could a compassionate, nurturing Father send his offspring into eternal torment? Why would a loving God who is omniscient — why would He create human beings that He knows will reject Him, and then let them suffer in a lake of fire, forever and ever? So again, be careful of using the threat of hell as a tool to coerce.
What can you do?
Keep the door open for conversation. Don't beat them over the head with doctrine or Bible verses. Be understanding. Let them know that you are very concerned but that you still love them. Acknowledge that it took courage for them to tell you what has happened. Remember that they are still your son or daughter, and nothing will separate your love for them.
After the initial shock has passed, ask them to share why they came to the conclusion that they did. They might prefer to do so in writing, and that's not a bad idea. Putting thoughts down on paper can be quite clarifying and less heated or confrontational. Allow them to do so.
Acknowledge to your son or daughter that "Yes, there are some disturbing and/or strange things in the Bible". Doing so will validate your child and keep the conversation going. You don't have to agree with their conclusion. But acknowledging their journey means you have some understanding. Religion can be a very divisive thing. Don't let it tear your family apart like it did mine.
You might have a book that you ask them to read. Your pastor might recommend one. That's fine. But be willing to reciprocate. Your son or daughter will probably have a book that they'll ask you to read. Your willingness to read something that they recommend will go a long way toward mutual understanding.
As a parent, it can be a traumatic thing to have your son or daughter abandon their faith. It put me on a 7 year journey which became the reason I started this blog. I am happy to say that I am closer to my son today than when this crisis started.
I want to conclude with a letter. My oldest son shared the following with me in 2013. It was written by a sympathetic friend to a mother who was heart-broken over her son's loss of faith. It's a thoughtful piece that's truly worth the read.
A letter to an Unsure Mother
Hi Unsure-mother. First off, though I am an atheist myself, I want to empathize a little: this must be difficult for you and your family. Your faith commitment is an important part of your life and it is bewildering to have your own child turn away from this. I don't know exactly what you believe, but you might be worried about his soul in the next life, or his behavior in this one. If you don't believe in God, how do you know right from wrong? If you reject God, how will you be reunited with Him in the next Kingdom?

The most important thing to understand is that these kinds of concerns, while very vivid and real to you, only make sense within a belief system your son no longer accepts. There is no sense in making threats of Hell or damnation anymore: atheists do not believe such a place exists. We don't believe such a place could exist. The thing that is important to remember is that while we no longer believe that there are places beyond the world, the world he lives in has now become all the more important. That's all we have. That's all we ever have. His world is family, and school, and friends: all these things structure his life and he will need them more than ever. He needs you. He's still a kid, and he's a kid dealing with Really Big Questions in the only way he can: honestly and critically.

Most of us have come to this point honestly. This must be emphasized. We're not angry at God, we're not trying to get attention or going through some cultural phase. We looked at the arguments on both sides and came to the best conclusion we could. We only have 70 odd years on this planet. We make mistakes, too; we are fallible creatures prone to error and haste. We do our best. And sometimes our best is 'well, I don't think any of this is right.' I don't pretend to have all the answers. I don't rightly know where the universe came from, or how life began at first. But I don't need all the answers to know that some answers are the wrong ones. I don't know, and I don't think Christians, or Muslims, or Taoists know either. They claim to know; I claim to not know.

Suppose I'm wrong. Suppose your son is wrong. I'm standing outside the pearly gates and St. Peter, or God Himself, gives me one chance to explain myself. What would I say except "I'm sorry — I got it wrong. I really tried. But I got it wrong. I saw all the different religions, each saying different things, all changing over time. It seemed just a part of human culture, not ultimate truth. I saw unnecessary suffering and couldn't make heads or tails of it, if you were good and all-powerful. It didn't make sense to me to posit something existing to explain existence: that gets it backwards. I'm sorry, God, that I didn't believe in you, but it wasn't malicious — I just — I just screwed up."

What would Jesus say to that? Would he send me to suffer forever? Do I deserve to be tortured eternally because I read Lucretius as a young man — the 2,000 year old Roman poet who professed his atheism before Christ ever walked desert sand? Because I looked at the ontological argument and found it wanting?

Or would he press me to Him and forgive me? And wouldn't I desire that forgiveness?

If there is a God that would send me to Hell for making this mistake, I don't want it in my life. Nothing justifies torture. Nothing at all. And He would not be worthy of worship–or even respect. If He is merciful, then I will apologize. If I am right–and he doesn't exist–then I live my life as a free man.

And that is how atheists live: under actual freedom. The German philosopher Nietzsche wrote that 'freedom is responsibility' — genuine freedom. I am responsible for the consequences of my actions. So: how do I live? What do I do? Do I want to live in a society where everyone does what they can get away with? What standards do I hold myself up to? This is the essence of the atheist's morality: his freedom, his rationality.

Before even Lucretius wrote his atheistic treatise De Rerum Natura, there was another man, Socrates, who asked a simple and startling question: Does God say something is Good because it is good, or is something good because God says it is? We must be careful here. If what is good is whatever God says is good, then we have no morality at all, but caprice. If God says: kill your son! it is good to kill your son. If God says: from henceforth, children shall be murdered — then it is good, by definition, that children be murdered. But that's not morality. That's authoritarianism. And if you say: "But God would never do that," I ask: why? Because if there is a reason, then goodness is independent from God after all. It is grounded elsewhere. In what? Well: maybe in reason itself? Or maybe morality is just part of the universe — a different kind of part, not like your sofa or TV or the moon is part of the universe, but the way numbers, or relations (like 'equal to') — an abstract object, none less the real.

There is a very, very long tradition of ethical thinking that is, in fact, older than Christianity itself. In philosophy classes we teach wisdom that was recorded a millennium before Christ. If it is impossible to be good without God, there wouldn't be one virtuous atheist. Yet there are millions of us non-religious men and women on the planet, and we live our lives, as best we can. Atheists don't fill the newspapers with tales of carnage or debauchery — clearly we can figure it out on our own.

Well. Not quite on our own. We have each other. No one else — just each other. And that's enough. So be there for your son.