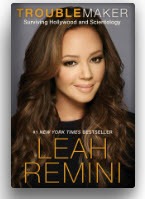 Leah Remini, actress and former Scientologist, has an 8-part television series on A&E entitled Scientology: The Aftermath. Recently, she did a reddit AMA that was quite interesting, and she will apparently answer more questions on reddit tomorrow.
Three episodes have aired so far (Tuesdays at 10 p.m. EST).  The current episodes have centered on former Scientologists and the costs they have paid, both financially and emotionally, thanks to their devotion to the religion.The third episode focused on the financials, where former members shared that the church charged them over $250,000 to achieve the higher levels in Scientology.
The Church of Scientology has often been a very litigious organization, going after anyone who is critical of their "church". Former members are treated and painted as evil people, whom the church typically describes as opportunists and/or whiners with an ax to grind.
My only complaint of the A&E show is that it tends to repeat portions of the content, likely in an effort to stretch it out on the A&E network for advertising benefit. But other than that, it's a fascinating look behind the curtain of craziness. Check it out.