Over the last 20 years, I have bought way too many bed mattresses and mattress related products. And I'm still not happy.
I cringe a little in saying that since there are many in the world who live without any bed mattress or comfy home. But I can't give the world a better night's sleep. I'm just trying to get one. Can you relate?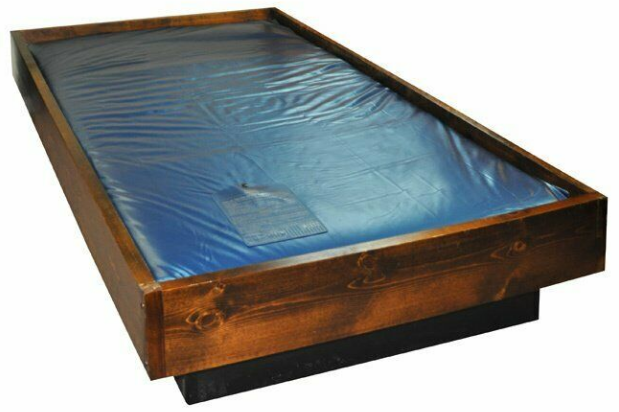 I started my young married life with a full motion water bed! It looked exactly like the one shown here.
Those were interesting days… temperature controlled warmth… body conforming… gentle rocking motions… but you could cause your mate to go flying out of the bed if you flopped down in it! A water bed also brought new meaning to making waves when it was sexy time. And lookout if you lost power in the winter! Brrrr.
I got a traditional spring mattress at some point in my 30s. I bought it from one of those warehouse clubs (Sams) and it was actually pretty good. It lasted for about 8 years. Next came a Sleep Number bed which featured his and her adjustable sides. It wasn't a fancy model but I was pretty content with it. The (ex) wife was not. We had it for a year or two but she kept complaining about sore shoulders and hips, so once again we were shopping.
I bought another name brand spring mattress. Based on our sleep preferences (I'm a side and stomach sleeper; the ex-wife was mostly a back sleeper), the salesman talked us into a moderately firm mattress. Within a year, I was desperate for some extra soft cushion so I bought a memory foam topper. Over the next 15 years, I've lost track of how many different foam toppers that I've bought.
When I got together with Renee many years ago, I bought her a 100% natural latex (2″) mattress topper. It was a modest improvement to her spring mattress, but nothing great. There were nights of okay sleep and not so good sleep. A few years later, I wondered if a 3″ latex topper might be an improvement. Sigh.
You can't really figure out if something works until you've had it for a while. When you first crawl into bed with a thick foam topper, it's nice. Cushiony. The real proof in the pudding is how well you sleep and how often you wake yourself through the night.
After a year of restless nights and sore hips in the morning, I took the 3″ soft latex topper off the bed and I was immediately sleeping better. So was Renee. But we wanted to bring back a little cushion comfort. So I bought a cotton pillow top mattress cover to replace our basic mattress cover.
It's not perfect, but overall we're sleeping fairly well. We still wish for a tad more cushion but I'm scared to spend more money on a different foam topper. And it's damn near impossible to find real reviews for most of this stuff! Online reviews tend to be a mix of legitimate posts, fake (paid) reviews plus a mix of unhappy people who had a bad experience for one reason or another.
I'm tempted to get another Sleep Number bed sometime in the next year. My (new) wife and I are both side sleepers primarily, which seems to play a significant factor in choice.
How about you? Do you have a happy comfy bed? Have you struggled to find the right mattress?